March 02, San Pasqual Reservation, Valley View Casino & Hotel in San Diego County, California again donated to AIHF more boxes of new clothes. We have contacted one of our Pine Ridge Reservation coordinator who was shipped 96 fleece blankets, 253 mens shirts, 71 mens fleece black jackets, 31 lady's shirts & 7 fleece jackets for distribution to those individuals and families in need. Further, Valley View Casino paid for the shipping, we are thankful for their continual support.
Some of the Boxes Shipped to Pine Ridge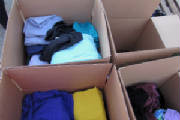 February 18th items shipped
May 17th, we shipped 5 pallets of clothes for every age and gender. Including, misc personal items to Pine Ridge reservation. The pictures are at San Pasqual Indian reservaion in San Diego county. Huumaay Quisquis, lead a team of volunteers from his reservation, keeping with our slogan Indians-Helping-Indians.
See Pictures! Tag to enlarge pics
May 18th, Joe Jaszke from the Denton area in Texas, went to Pine Ridge Reservation in South Dakota. He was able to take a vehicle load of clothes, blankets and food. We (AIHF) colaborated with Joe to help him with the solicitation, reservation contacts and tax deductable documentation to donors to make his trip possible. Joe and AIHF will continue to expand assistance from the Denton, Texas area to help our people. We have talked with Joe about possible colaboration in serving our people in Oklahoma. See the pictures of his trip.